Belmont Stakes 152 Recap
---
Facts, Figure and Quotes from the 152d Belmont Stakes
---
Tiz the Law Gavels Down 152d Belmont Stakes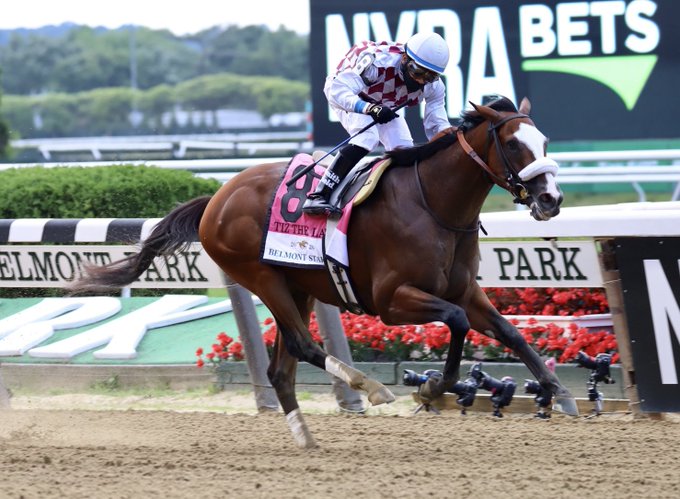 By Dick Downey
Posted June 20, 2020
Photo by America's Best Racing

Tiz the Law began his quest to win the Triple Crown with an easy win of the 152d Belmont Stakes. After sitting close to fractions of 23.11 and 46.16, he rolled home in 1:46.53 with a winning margin of 3 3/4 lengths.

Run at 1 1/8 mile for the first time since the 19th century at the only track in the United States where that distance is one turn, the Belmont led off the Triple Crown series for the first time in history after the covid-19 pandemic led to massive shutdowns of normal commercial activity nationwide.

Tiz the Law, a son of Constitution, became only the fourth New York-bred to win the Belmont. The others were a long time ago: Ruthless (1867), Fenian (1869) and Forester (1882).

Dr Post came on in the far turn to finish well in second. Max Player got up late in the stretch to finish third, just ahead of Pneumatic. The top four were followed under the wire by Tap It to Win, Sole Volante, Modernist, Farmington Road, Fore Left and Jungle Runner.

As expected, Tap It to Win took the early lead. He was attended by Fore Left and the ultimate winner, Tiz the Law, was only two lengths back with Jungle Runner in fourth through an opening quarter-mile in 23.11. The first four ran in that order, and in those positions, for the first half-mile, timed in 46.16. In the far turn, Tiz the Law bided his time behind Tap It to Win and Fore Left with with six furlongs gone in a sprightly 1:09.94.

Manny Franco had remained motionless on Tiz the Law as they straightened for home. Simultaneously with taking the lead in upper stretch, Franco asked his mount, and they made short work of the competition as they led by 4 1/2 lengths with one furlong left in the race.

The outcome served as redemption for trainer Barclay Tagg and owner Sackatoga Stable led by Jack Knowlton, who lost the Belmont Stakes, and the Triple Crown, when Funny Cide was defeated in 2003. Now they've won the first leg of the 2020 Triple Crown, Tagg's first-ever win of the Belmont.

The Kentucky Derby on Sept. 5 is a major goal for Team Tiz, but in the meantime they expect to race Tiz the Law in the Travers Stakes, Tagg said in post-race comments. Churchill Downs is the only venue where Tiz the Law lost a race, narrowly defeated in the Kentucky Jockey Club Stakes last November on a sloppy track.

Tiz the Law received 150 Kentucky Derby points with the win and now has 272. Dr Post got his first 60 points and now finds himself ranked eighth on the Derby leaderboard. Max Player, who got 30 Derby points, has a total of 40 and is ranked 12th. Pneumatic has 25 Derby points after picking up 15 in the Belmont; he's 20th on the list.
The purse for the Belmont was down a bit during this time of economic downturn, but at $1,000,000, the winner will receive $535,000 with $185,000 to second, $100,000 to third, and $65,000 to fourth. The purse pays down to eight places.
After winning the Holy Bull Stakes and the Florida Derby early this year, Tiz the Law was the 4-5 favorite in the Belmont and paid $3.60 to win, $2.90 to place and $2.60 to show on $2 tickets. Dr Post, sent off at 7-1, returned $5.80 and $4.20. Max Player paid $5.20 to show at 14-1odds.
Twin Creeks Farm bred Tiz the Law. He's out of the Tiznow mare Tiztiz. Sackatoga paid $110,000 for him at the Fasig-Tipton August 2018 sale. The colt was foaled on March 19, 2017.
Beaten lengths per Equibase chart
1. Tiz the Law
2. Dr Post, beaten 3 3/4 lengths
3. Max Player, beaten 5 1/4 lengths
4. Pneumatic, beaten 7 3/4 lengths
5. Tap It to Win, beaten 14 lengths, head
6. Sole Volante, beaten 15 3/4 lengths
7. Modernist, beaten 20 1/2 lengths
8. Farmington Road, beaten 21 1/4 lengths
9. Fore Left, beaten 22 3/4 lengths
10. Jungle Runner, beaten 39 1/4 lengths
Top 10 Kentucky Derby points leaders
1 Tiz the Law 272
2 Honor A. P. 120
3 Authentic 100
4 King Guillermo 90
5 Ete Indien 74
6 Modernist 70
7 Ny Traffic 70
8 Dr Post 60
9 Basin 50
10 Mischevious Alex 50
CONNECTIONS QUOTES
Barclay Tagg, trainer of Tiz the Law:
"It looked to me like everything just went like clockwork. That's the way the horse likes to run and that's the position the horse likes to be in. Manny [Franco] knows the horse very well. We discussed it quickly before I put him up on the horse and I felt very confident Manny would ride him that way.
I felt pretty solid about halfway down the lane. It's a good feeling.
For a lot longer before (Funny Cide) I was hoping to win the Belmont. Funny Cide got us close anyway, and we topped it off with Tiz the Law here today.
"The long-range plan would be the Travers, the Derby and then the Preakness.

After that, they'll probably want me to take him to the Breeders' Cup." On racing without spectators

: "Actually, it was very nice. I'm not trying to be a jerk about it, but I thought the quietude was very nice."
Manny Franco, aboard Tiz the Law:
"I was pretty confident by the time we hit the seven-eighths pole. He was so kind and relaxed for me. He was so comfortable and never got keen, so I think that was the key.
I got the horse for the Derby. I'm very happy for the opportunity that the owner and trainer have given me; I'm in good hands. They know what they're doing and the horse is really good.
I'm not going to lie I was little bit nervous, but at the same time I was confident because I know what I have under me. Like I said, I'm in good hands with Barclay.
It means a lot to me. This is my home track. I've riding here for about six years already. One leg of the Triple Crown is the dream of any jockey. I'm happy with the opportunity that I have right now.
About the five-eighths pole, my horse was so relaxed, so calm. From there, I knew I had so much horse to win the race.
He's really more mature right now.
I didn't want to be too far off with the way the track is playing right now. I knew that Casse's horse (Tap It To Win) was the one we wanted to beat, so I didn't want to let him go too easy. I was in the position that I wanted.
I took a peak back around the five-sixteenths, I didn't want to move early. I knew I had the horse underneath, I was just waiting for the right time to move."
Jack Knowlton, operating manager of winning owner Sackatoga Stable of Tiz the Law:
"It's tremendous. We buy New York-breds, that's our game, and we don't spend a lot of money. We've been with Barclay Tagg for 25 years, and I keep telling everybody, Barclay doesn't get a lot of big horses, big opportunities, but when he does he knows what to do. He's got his and Sackatoga's got theirs. Triple Crown, two different horses, two different years, and not a lot of people can say that."
Irad Ortiz, Jr., aboard runner-up Dr Post
: "He ran great. No excuse. He got beat by a good horse too. The winner is a nice horse, New York-bred and he ran great. My horse is improving. He's only had three races. He just needs a little more time to figure things out."
Linda Rice, trainer of third-place Max Player:
"He got shuffled back a little after the break and had a wide trip through the turn, but he was still running on at the end of it. He hasn't run in five months so it was a pretty good effort."
Joel Rosario, aboard third-place Max Player:
"He came running real well at the end and put in a nice run. I was happy with where I was in the beginning and then getting into the turn he took some dirt to the face. But he was coming, he was making a nice run on the outside and just kept coming. He still came with a nice run there at the end. I thought it was a good performance for him."
152d Belmont Stakes - June 20, 2020 - 1 1/8 Mile - $1,000,000 - Race 10 - Post Time 5:42 ET
| | | | | | | | |
| --- | --- | --- | --- | --- | --- | --- | --- |
| Post | Horse | ML | Jockey | Trainer | Owner | Breeder | Last Race |
| | | | | | | | |
| 1 | Tap It to Win (FL) | 6-1 | J Velazquez | M Casse | Live Oak Plantation | Live Oak Stud | 1st BEL allowance |
| 2 | Sole Volante (KY) | 9-2 | L Panici | P Biancone | Reeves Thoroughbred Racing, Andie Biancone & Limelight Stables Corp. | Flaxman Holdings Ltd. | 1st GP allowance |
| 3 | Max Player KY) | 15-1 | J Rosario | L Rice | George E. Hall | K & G Stables | 1st Withers Stakes |
| 4 | Modernist (KY) | 15-1 | F Alvarado | B Mott | Pam and Martin Wygod | Wygod Family, LLC | 3d Louisiana Derby |
| 5 | Farmington Road (KY) | 15-1 | J Castellano | T Pletcher | Eclipse Thoroughbred Partners, Chrysalis Stables LLC & Robert V. LaPenta | Chrysalis Stables | 4th Arkansas Derby Div 2 |
| 6 | Fore Left (KY) | 30-1 | J Ortiz | D O'Neill | Reddam Racing LLC | Machmer Hall | 1st UAE 2000 Guineas |
| 7 | Jungle Runner (KY) | 50-1 | R Gutierriez | S Asmussen | Calumet Farm | Calumet Farm | 8th Arkansas Derby Div 1 |
| 8 | Tiz the Law (NY) | 6-5 | M Franco | B Tagg | Sackatoga Stable | Twin Creeks Farm | 1st Florida Derby |
| 9 | Dr Post (KY) | 5-1 | I Ortiz Jr | T Pletcher | St Elias Stable | Cloyce C. Clark | 1st Unbridled Stakes |
| 10 | Pneumatic (KY) | 8-1 | R Santana Jr | S Asmussen | Winchell Thoroughbreds LLC | Winchell Thoroughbreds LLC | 3d Matt Winn Stakes |